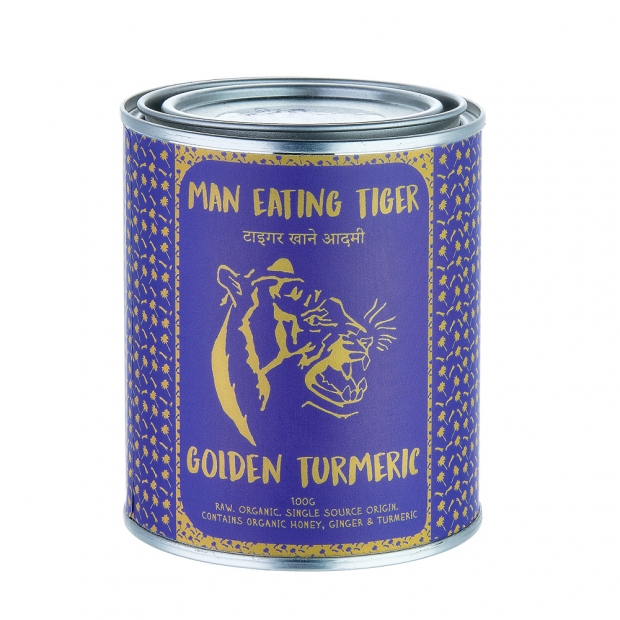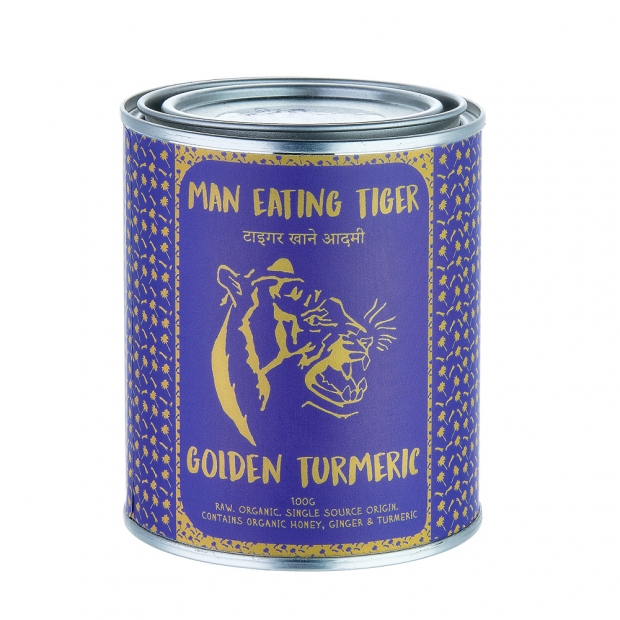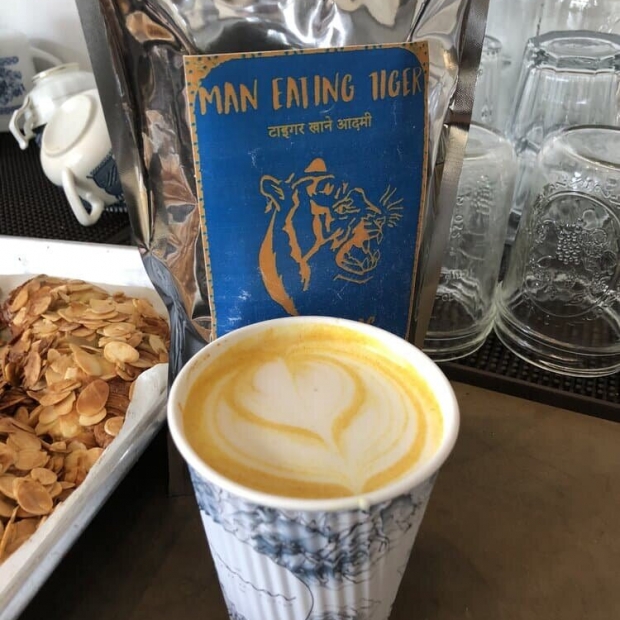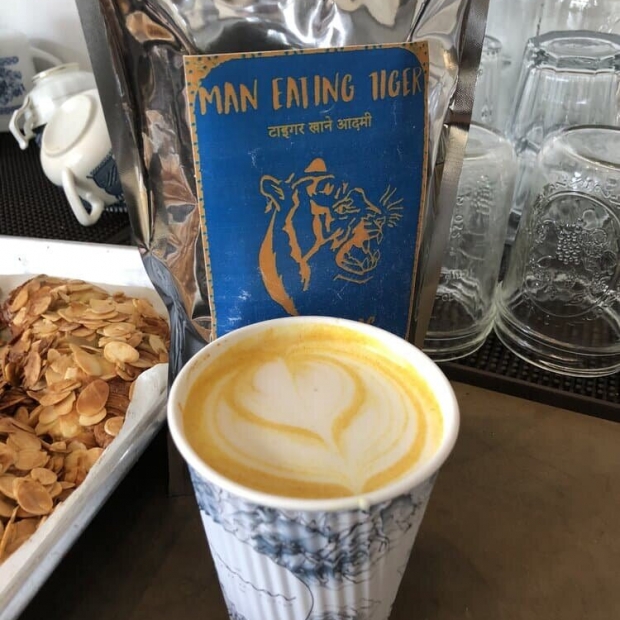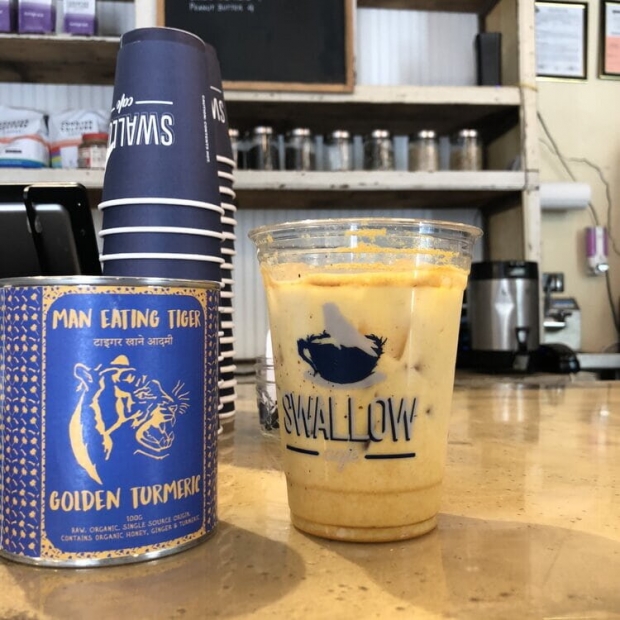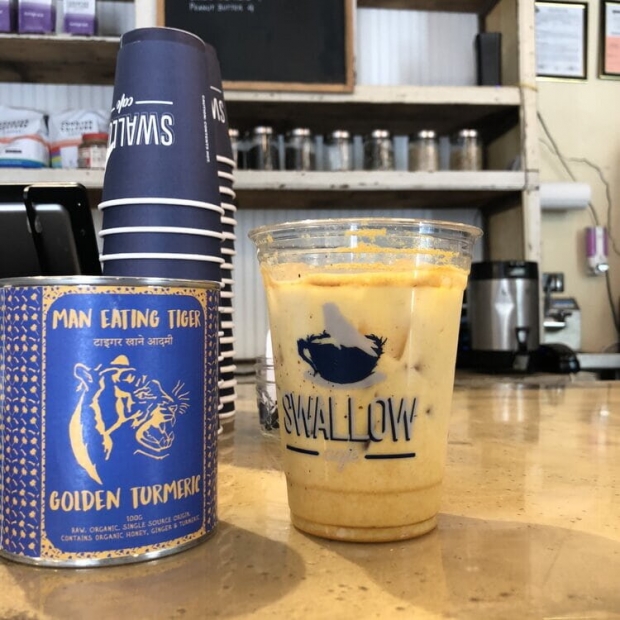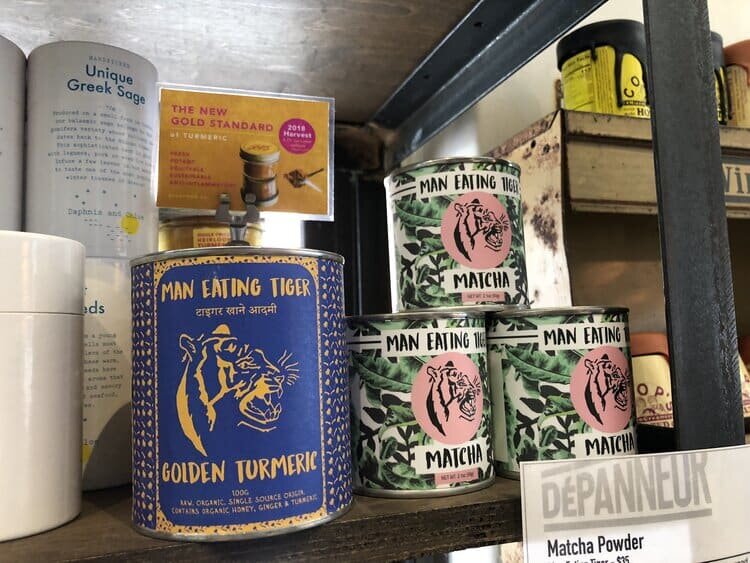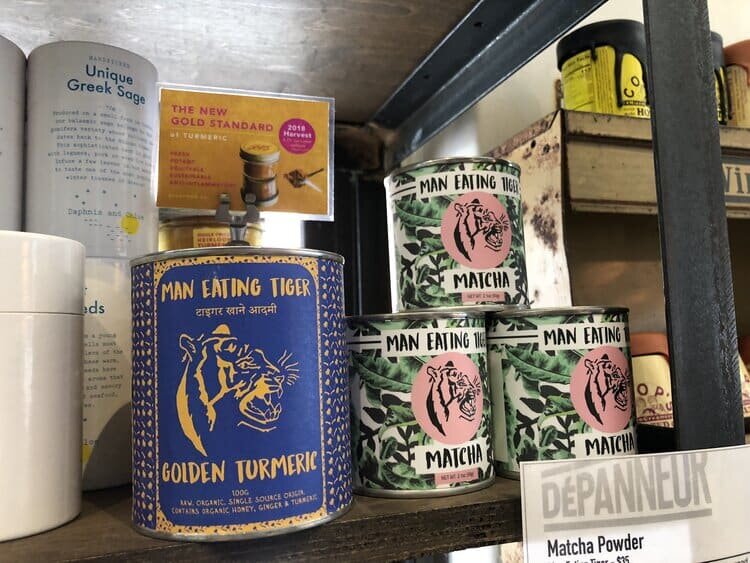 Organic Golden Turmeric Milk (Powder Mix)
$25.00 – $55.00
Buy the best organic golden turmeric latte powder mix here

Our absolutely delicious Golden Turmeric Milk Latte is now available in retail tins. Man Eating Tiger always and only uses top shelf ingredients, including organic turmeric combined with organic yellow-skinned ginger and organic honey to make this super powerful, healthy elixir. Turmeric is well known to have powerful antioxidants and anti-inflammatory properties which are noted for building up one's immune system and fighting off a variety of diseases. Ginger helps in improving digestion and expelling free radicals.

Man Eating Tiger Golden Turmeric can be used in several ways including directly mixing six grams into your morning cup of milk or added to your morning smoothie. Our personal preference is iced with Oatly oat milk!

Enjoy the flavor and health benefits of our tea today!

Ingredients

Single source origin Raw Organic Turmeric, Organic Yellow skinned Ginger and Organic Honey.

Golden milk is loaded in antioxidants, which in turn help protect tissue from damage, fight off disease and attacks and contribute to health and fitness.

Making Golden Milk

Golden Turmeric Milk is a mixture of turmeric, ginger, honey into a turmeric tea. It is widely acclaimed for boosting heart health and alleviating joint pain. Golden turmeric milk can make turmeric lattes, milk teas, ginger teas, and other blends. Golden milk is known to boost the bioavailability of curcumin, turmeric's known and leading antioxidant for the instant boost of health benefits. Using Man Eating Tiger's Golden Turmeric, one can make Golden Milk very easily.

What to Know About Organic Turmeric Milk

1. What is Organic Turmeric Milk?

The benefits of organic turmeric milk include improved digestion, immune support, and increased brain power. This is because the turmeric is a powerful antioxidant that fights against inflammation.

On the other hand, dairy can cause digestive issues as it slows down digestion. Dairy also contains hormones that are not good for our body. And lastly, dairy can cause kidney stones when consumed in excess or if the person has a family history of them. (Our proprietary Golden Turmeric Milk allows you to make your mix entirely without any dairy product!)

2. How Does Organic Turmeric Milk Help You?

Turmeric has been used in Indian and Chinese cultures for its medicinal properties. Recent studies show that people who take turmeric or even drink it as a tea have a reduced risk of Alzheimer's disease compared to people who do not take it.

The healthy compounds found in turmeric are called curcuminoids. They have antioxidant, anti-inflammatory, and anticancer properties. These components are believed to be the cause for many of the benefits linked with taking turmeric.

3. How to Make Organic Turmeric Milk?

Turmeric milk is a vegan and lactose-free drink that you can prepare at home.

Turmeric milk is made by adding 2 teaspoons of turmeric powder to boiling water with a dash of black pepper and cinnamon. The mixture needs to be boiled for a few minutes. Next, mix in raw almond milk, coconut milk or soy milk into the pan until it becomes creamy. Finally, add some honey and vanilla extract on top and enjoy your turmeric latte!

4. Where can I find organic turmeric milk near me?

Man Eating Tiger ships Nationwide. So yes, you can get organic turmeric latte mix from us, we deliver ;).
| | |
| --- | --- |
| Weight | N/A |
| Size | 100g, 450g |
---